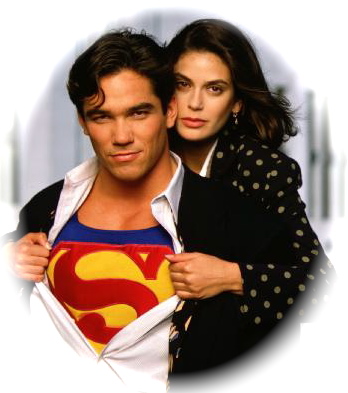 Let my walk down memory road begin….
I got hooked on Superman with Lois & Clark actually. That was a long time ago. I was in elementary school when that was still airing on TV, during the early to mid 90's. I thought Dean Cain was awesome and I had a major crush on Teri Hatcher, which only got worse when she made her appearance as a bond girl in Tomorrow Never Dies (which is still my favorite of the Bond films from that era). I was infatuated with how devious and vile Lex Luthor was and the storyline where Zod comes back and tries to take over the earth was awesome.
Smallville came out while I was in the middle of a very tough time in my life. I was sick for a very long time in Middle School, hospitalized many times. The Doctor's never really knew what was wrong with me, which ended up prolonging that illness for a very, very long time. It turned out to be a fairly common stomach disease, which since then, has been getting much easier to diagnose. Thankfully most people won't ever have to go through the same troubles I had now that awareness about the disease is out there. That show really helped me get through a pretty tough time in my life. I loved the stories and I felt like I could relate to Superman and all the problems he faced as a high-school student more than any of the other comic book characters out there. Because honestly, I don't know a lot of other sick kids that really relate to Batman (the X-men came in a close second for me, but they never really captured my visual imagination as much as Smallville has).
Unfortunately, Smallville is in its 10th and final season now. It really bums me out. I almost cried when, during the into to season 10 they announce, "Now, the Premiere of the Final Season of Smallville." I know that the actors need to move on with their lives and that Superman has to finally don his red cape and tights at some point, but something inside me hoped that the show would go on forever.
Oh… wait… It can...
Margaret Weis Productions
just so happens to have a Smallville RPG out which they debuted at Gencon 2010. What a coincidence. You thought this walk down memory lane was going nowhere didn't you??? You can pick up the Smallville RPG at a game store near you, or through
Margaret Weis Production directly
. Here is a little tidbit of what the game has to offer taken from their site:
"Every hero has a beginning… The SMALLVILLE Roleplaying Game lets you experience all the superpowered action and coming-of-age drama of the hit show on the CW Network. Whether you're struggling against your heritage, your humanity, or your heroic responsibility, you'll need the support of friends and family in order to embrace your destiny. Players may choose to take on the role of Clark, Chloe, Lois, Oliver, or their own original characters in the world of SMALLVILLE.

Easy-to-learn rules and full-color pages bring the show to life for new and experienced gamers alike."
I just happen to have a copy of this RPG and I will be taking an in depth look at all 216 pages over the course of this week, culminating in a full review of the Game to be posted at Stargazer's World and around the net. Will it live up to my very, very discerning Smallville standards? This week, we will all find out together. Let my spotlight on the Smallville RPG begin!!